CycleSpark offers extra large e-cargo bike solutions to build clean and livable cities. e-cargo bikes that can carry larger volumes and heavier payloads that are similar to a diesel van. We have more then 5 year experience in large cargo bikes.  If you are searching for the best cargo bike for your application we can give you independent advice. We help you find the right vehicle with the right mix of speed, payload and volume to create a realistic business case.
We use electrical assisted cycling technologies from different European and global partners. Containers in various sizes and insulation grades are possible. The cargo bikes can be  customized and branded to your wishes. Our cargo bikes can be bought, leased or shared with or without maintenance.
If you are interested do not hesitate to contact us for a more information or to make an appointment for a test ride.

Customers are looking for:
"We are growing fast and are are looking for ways to transport larger volumes by bike. It fits the best to who we are."
•
"I am looking for a large and flexible zero emission cargo vehicle for our last mile deliveries. A vehicle that can take larger volumes then regular cargo bikes. This will make our business case more realistic."
•
"I want to deliver heavy construction materials in the bussy city center. The city is planning to close the city for combustion vehicles by the year 2023."
•
"My Drivers like a cargobikes. It is very easy to use in dense city like Amsterdam. They can turn in a street without driving backwards. No other logistic vehicle can do that."
•
"Some of our customers do not have a car. We like to enable our customers to bring home large goods by bike. For example garden stuff, building material and furniture."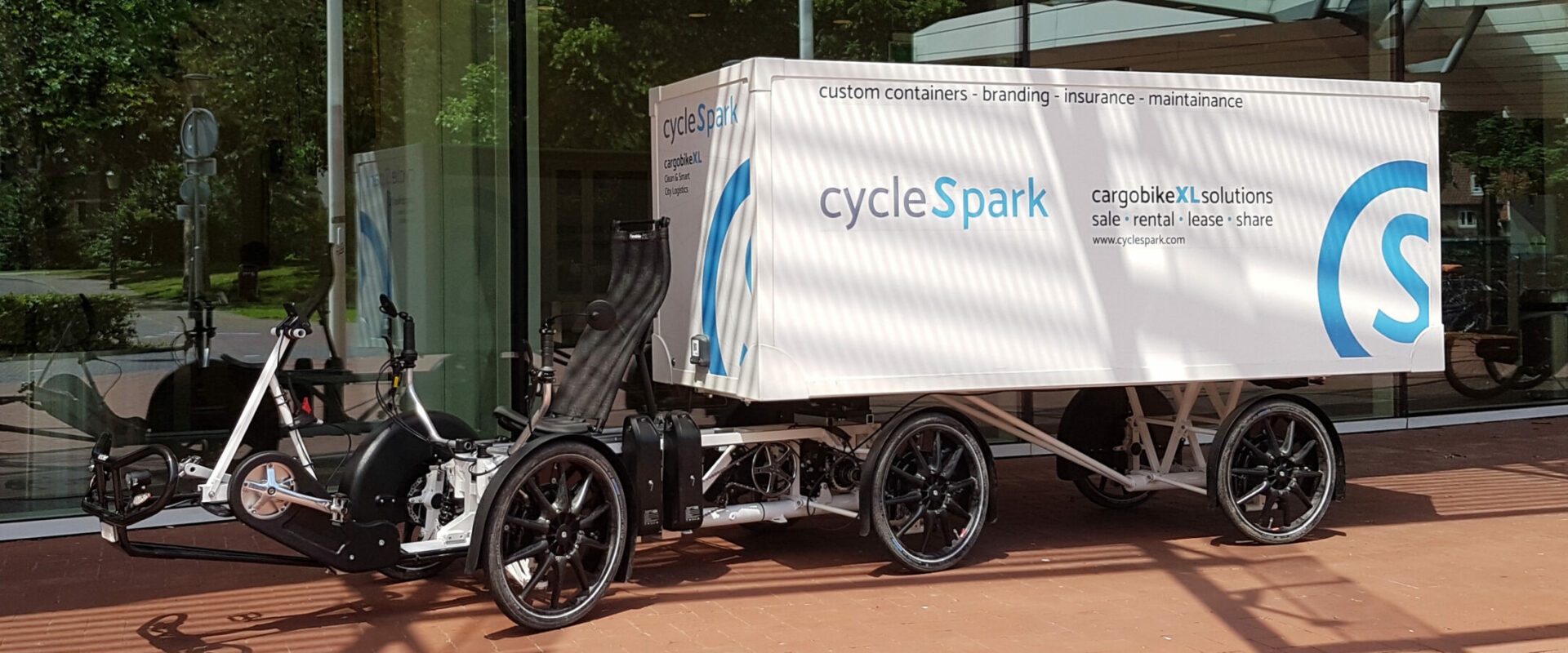 LARGE VOLUME & HEAVY WEIGHT
Volumes up to 4m3
and payloads up to 500 kg

Can take regular roads and cycle roads
Turning circle of only 2 meter

ENERGY EFFICIENT & ZERO EMISSION
Zero emission electrical assisted cycle
10 times less electrical power needed compared to electrical van for same tasks

COST EFFICIENT
SAFE & HEALTHY
No fuel costs
No tax costs
Good overview in busy traffic
Better condition